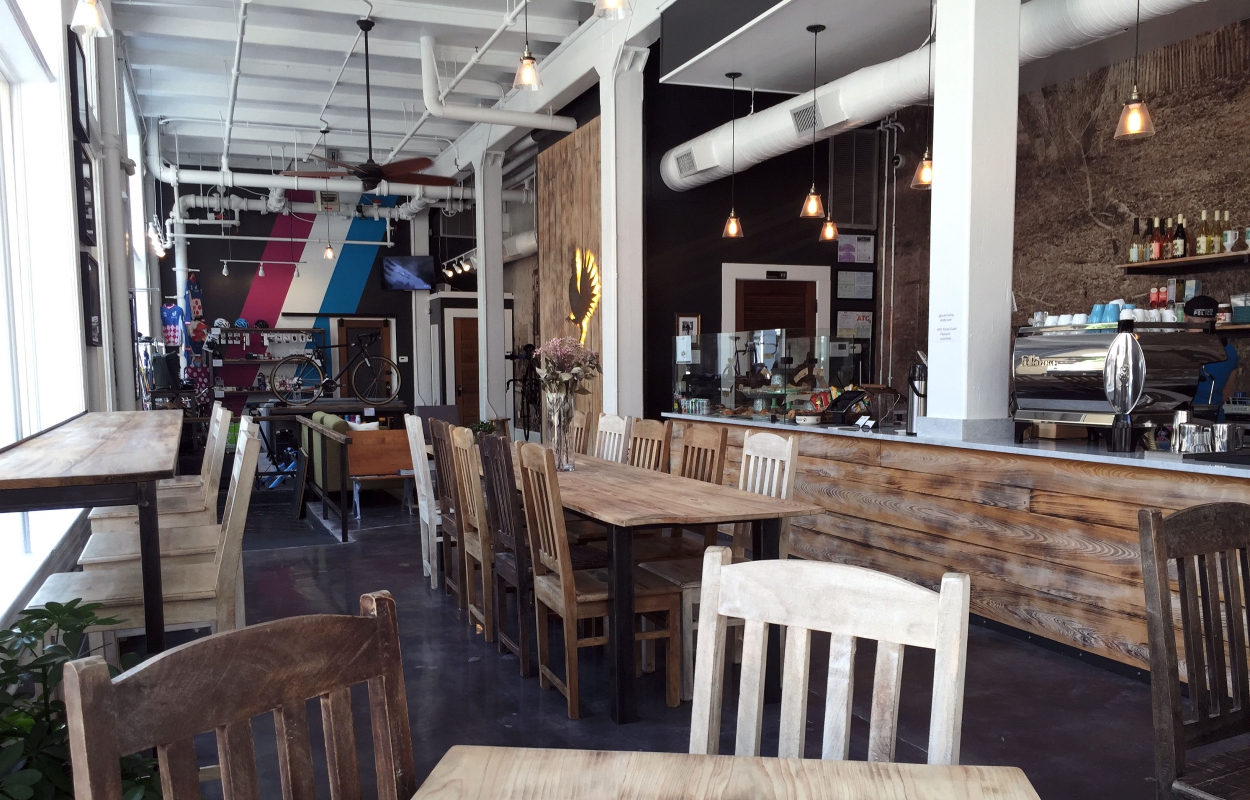 Rouler is a bicycle-friendly café located in the vibrant downtown district of New Orleans at the intersection of Baronne and Lafayette Streets.
Open daily (with a few exceptions that are usually published on our Facebook page) from 7am - 6pm, the café features all manner of delicious fresh-brewed coffee beverages (hot and cold brew) and a complete bistro-style breakfast and lunch menu which make Rouler a great place to stop in for afterwork meetings or to catch up on the day's cycling action at home and abroad. We feature vegan menu options for our guests looking for something suitable for their dietary choices.
"At Rouler, our goal is to create delicious and nutritious meal options that keep you fueled for whatever the day holds. Great coffee and great food served by our friendly staff in this inspiring environment make for a really memorable experience."
~ Wes McWhorter, owner
Download our menu (PDF)
Designed as a multi-purpose space, Rouler is perfect for early morning meetings, grabbing lunch with friends or scheduling that after-work office happy hour. Our high-speed Internet provides plenty of bandwidth if you're looking to get some work done. And, of course, there's always plenty of cycling action on the big screen TVs.
Our mission is to use the sport of cycling to bring people together to share experiences and realize the long-term benefits of an active and healthy lifestyle. As such, our goal with our flagship location is to create an environment that inspires and excites the senses, while providing a dynamic venue for intimate interactions as well as larger community engagement.
Our pastries are baked locally by Gracious bakery. Our coffee is roasted locally by French Truck Coffee. The lox we use on our delicious bagel and lox plates is smoked and cured by Elysian Seafood.
Rouler offers delivery, catering and is available for private events like parties, workshops or meetings. To learn more, send us an email or give us a call at 504-603-2781.
You can find us on Yelp and on Facebook to see what other folks have said about their experiences at Rouler.
We invite you into this world — the world of Roulandria — where you are free to explore and grow, and to discover new roads you might have never considered taking.
Thank you for sharing your time with us!